WHAT'S HAPPENING IN THAILAND
Since the coup on the 22nd of May, 2014, Thai people have been forced to live under the control of junta government (military dictatorship). The military government has been exercising extreme and incontestable state power to silence and control us for 6 long years.
We refuse to tolerate the cruelty and incompetence of the rulings any longer.

Speaking up costs us a lot of things in this country. Brave activists and students who have come forward to voice their rightful critique against the junta have faced dire consequences—some were threatened, some were attacked, and some were forced to disappear. Freedom of speech and expression, our inalienable birthright, has been stolen from the people by the junta by violently cracking down on dissent, actively enforcing media censorship, and banning public gatherings.
The current constitution, drafted under the heavy influence of the military and enacted in 2017, allows authoritarianism and abuse of power to thrive even further—at the price of thai people's liberty and basic human rights. The law and the corrupt justice system has been weaponised by the military to serve the ruling class and demolish the less fortunate.

We need your attention.
Since speaking the truth here may cost us our lives and those of people we hold dear, we need help and support from the global citizens to spread our words and let our voices be heard.
The world needs to know what really is happening in Thailand.
We need real democracy.
#RespectThaiDemocracy #FreedomForThai
to understand in your language
6 YEARS UNDER COUP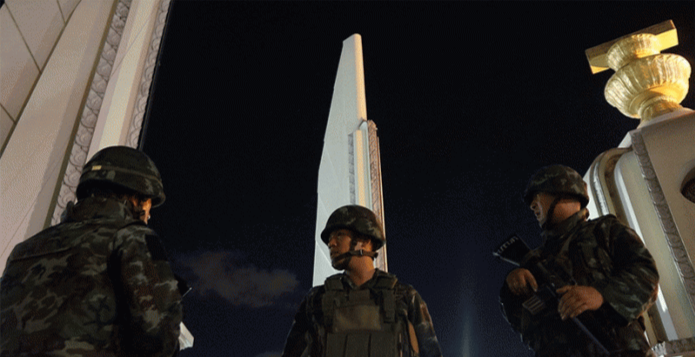 191 protesters were monitored by National Council of Peace and Order (NCPO) during the election.732 people were charged for violating NCPO's order and the Act which bans public gatherings.The charges of Act 112 have not increased but the government used other laws to threaten the dissidents (It is known that the Article 112 is used to put dissidents in jail but other Articles such as Emergency decree, Cleanliness and Orderliness of the Country Act 1992, the Computer Crime Act are used to stop dissidents from speaking up or protesting)."Silencing" dissidents with the charge of section 116 of criminal code, "sedition".At least 197 civilians were charged with Computer Crime Act from speaking up about politics online.42 civilians were charged with the Computer Crime Act under NCPO, in which 37 of them were accused of spreading false information and 28 of them were accused of misleading information about the outbreak (COVID-19). 162 civil cases were transferred to the military court.53 were held captive in military prisons in Nakhon Chai Si and Thung Song Hong.104 people seeking political asylum in foreign countries after being unlawfully summoned by NCPO, threatened by the military authorities or charged with Act 112 or weapon-related charges.6 possible enforced disappearances were reported, 3 were associated with the Thai Federation group.
10 Demands for Reforming the Institution of the Monarchy
To revoke Article 6 of the 2017 Constitution which restricts any accusations against the monarchy, and to add an article which allows the parliament to investigate the wrongdoings of the monarchy, as had been enacted in the constitution declared by the People's Party.

To revoke Article 112 of the Criminal Code allowing citizens to freely exercise their right in expressing criticism about the monarchy, and to give an amnesty to those prosecuted for criticizing the monarchy.

To revoke the Crown Property Act of 2018, and to divide the monarchy's assets under the control of the Ministry of Finance and his personal assets.

To adjust the national budget on the monarchy in accordance with the country's economic condition.

To abolish the Royal Offices. Units with clear duties, such as the Royal Security, are to be under the control of other agencies. Unnecessary units, such as the Privy Council, are to be disbanded.

To dismiss giving and receiving donations by the Royal Charity Funds for the auditability of the monarchy's assets.

To prohibit the monarchy of expressing political opinions in public.

To abolish the excessive one-sided glorification and propaganda in education regarding the monarchy.

To investigate the deaths of those who criticized or had any relations to the monarchy.

To prohibit the monarchy's endorsement of any further coups.
---
Where we protest
SEPTEMBER 19TH
| City | Place | Date | Time | Poster |
| --- | --- | --- | --- | --- |
| Copenhagen | Rådhuspladsen 1550 | 1 August | 14:00-15:00 | Link |
| Taipei | Taipei Main Station | 16 August | 17:00 | Link |
| London | Russell Square | 16 August | | |
| Taipei | Seen Mining Ximenting - MRT Ximen Station Exit 6 | 19 September | 17:00-19:00 | |
| Tokyo | Hachiko Statue area | 19 September | 13:00 | |
| Paris | Place de la République at the Republic | 19 September | 17:30 - 19:30 | |
| Vancouver | Vancouver Art Gallery (W Georgia St. street side) | 19 September | 10:30-11:00 | |
| Winnipeg | Manitoba by Lake Winnipeg | 19 September | 10:30-12:30 | |
| New York | Royal Thai Consulate General | 19 September | 13:00 | |
| Pristina Kosovo | Newborn | 19 September | 15:00-17:00 | |
| Berlin | Brandenburger Tor Gate | 19 September | 18:30-21:30 | |
| Stockholm | Odenplan | 19 September | 13:00 | |
| Copenhagen | City Hall Square Copenhagen | 19 September | 13:00-14:30 | |
| Oslo | Tigeren Tigeren Jernbanetorget | 19 September | 13:00-14:00 | |
| Helsinki | Rautatientori | 19 September | 14:00-18:00 | |
| Sydney | Front yard HSBC China Town station | 19 September | 17:45-18:15 | |
| Sydney | Tumbalong Park | 19 September | 18:30-19:30 | |
| Gold Coast | Surfers Paradise Beach | 19 September | 15:00 | |
| Wellington | New niwsīlænd̒ | 19 September | 13:00-17:00 | |
| France | Place De La République | 11 October | 15:00-17:30 | Link |
DONATE
Prachatai
Prachatai (www.prachatai.com) is an independent, non-profit, daily web newspaper established in June 2004 to provide reliable and relevant news and information to the Thai public during an era of serious curbs on the freedom and independence of Thai news media.

For international:
FCEM, Bank Address:336 Ratchadapisek Road, Samsennok, Huai Khwang, Bangkok 10320 Thailand, Swift Code:KRTHTHBK.PayPal https://paypal.me/prachatai
website / twitter
---
Thai Lawyers for Human Rights(TLHR)
Thai Lawyers for Human Rights Thai Lawyers for Human Rights was established on 24th May 2014, two days following the coup in 2014, by a group of human rights lawyers and social activists. Initially as an ad-hoc organization, TLHR aimed to provide legal and litigation assistance to individuals who had been summoned, arrested, and detained by the military as a result of the 2014 coup.

Donation:
Donate by cheque : Please, write out to "Rights for Justice Foundation"Bank of Ayudhaya PCL (Krungsri), Big C Lat Phrao 2 Branch
Account number: 800-9-54209-4
Donate by Bank account : Please, transfer to account "Rights for Justice Foundation"Bank of Ayudhaya PCL (Krungsri), Big C Lat Phrao 2 Branch
Account number: 800-9-54209-4

website / facebook / twitter / email
---
The Mirror Foundation
The Mirror Foundation is a grassroots Thai non-governmental organisation, founded more than twenty years ago. The organisation is split into two distinct groups:
The Mirror Foundation, Chiang Rai
The Mirror Foundation, Bangkok
Whilst there is regular contact between the teams, and a certain amount of work which overlaps, the vast majority of the projects are mutually exclusive. Bangkok focuses on urban problems, whilst Chiang Rai concentrates on issues related to the lack of citizenship among ethnic minorities.

For International:
Paypal [email protected]
website for international / website / facebook / twitter
---
Amnesty
Amnesty International Thailand (also known as Amnesty Thailand and AI Thailand) is a non-governmental organisation focused on the protection of human rights in Thailand and worldwide with more than 1,000 members across Thailand. Amnesty Thailand is one of more than 50 sections that make up Amnesty International worldwide. The missions of Amnesty Thailand are largely based on the protection of the Human Rights as explained in the Universal Declaration of Human Rights Amnesty Thailand campaigns.


For International:
Donate
website for international / website / facebook / twitter
TO FOLLOW THAIS SITUATIONS
FreeYOUTHth
ThaiEnquirer
ThisRupt
Prachatai
Ugly Truth Thailand
TLHR
Thai PBS World
Khaosod
Political Prisoners in Thailand
PEOPLE TO FOLLOW
---
13
Thailand has the highest number of successful coups d'état in Southeast Asia.
A Total 21 coup attempts13 successful and 9 unsuccessful coups in just over a century.one of the world's top ten countries with the most coups d'état and coup attmpts
THE MOST RECENT COUP, IN 2014, WAS LED BY GEN. PRAYUTH CHAN-O-CHA, WHO TOOK POWER AS THE JUNTA LEADER FOR 4 YEARS, AND IN 2019, THROUGH RIGGED ELECTIONS AND INVOLVEMENTS OF THE ELITES AND THE PALACE, HE BECAME THE PRIME MINISTER OF THAILAND
info from <elect.in.th>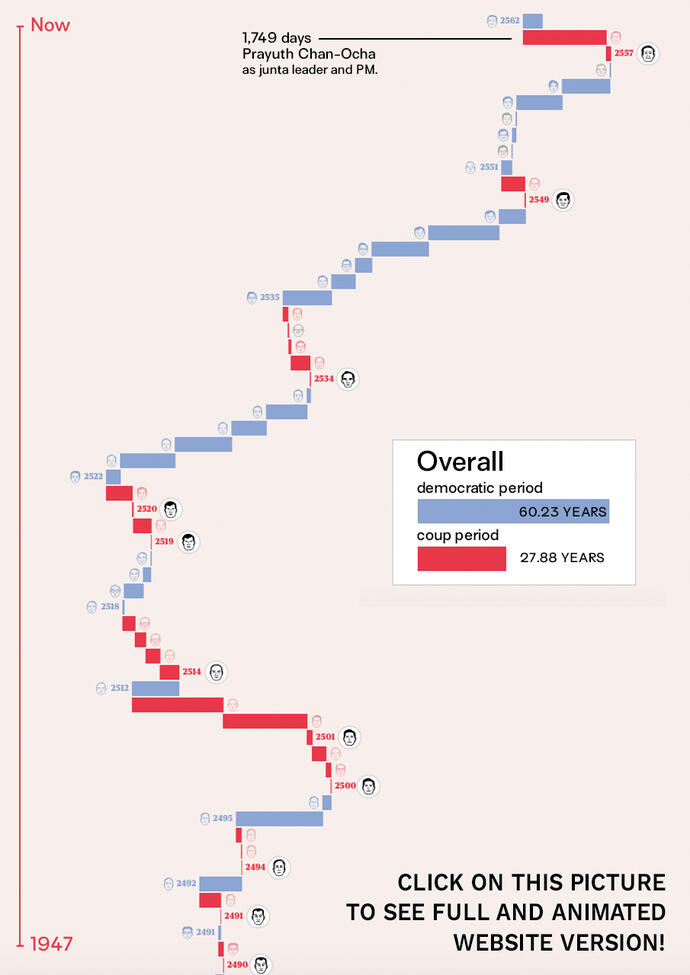 1st coup d'état
Due to disagreements in the parliament that stemmed from allegedly radical economic policies presented by Pridi Panomyong (a prominent member of Khana Ratsadorn, revolutionists who changed the regime from absolute monarchy to constitutional monarchy in 1932). Phraya Manopakorn Nithitada, the PM, dissolved his own parliament and claimed the government anulled. He seized all the executive power by citing the monarchial power and royal decree.
2nd coup d'état
General Phraya Paholpolpayuhasena, allying with with the army, navy, and civilians, took control over political strongholds, claimed the government of Phraya Manopakorn Nititada unconstitutional. Therefore, the coup of General Phraya Paholpolpayuhasena annulled Phraya Manopakorn Nititada's House of Representatives, which was re-established later after Phraya Manopakorn Nititada surrendered.
3rd coup d'état
Lieutenant Genernal Phin Choonhavan led the coup to seize the power of Rear Admiral Thawan Thamrongnawasawat's government. Six reasons were declared as the object of this coup; scarcity of consumer goods, post-world-war economic distress, inefficient governance, unrest, mysterious death of Rama XIII, and dissatisfaction of the army due to a retirement policy. This is the end of the Pridi-led political influence.
4th coup d'état
About one month after the Declaration of policy and gaining trust of the Parliament, on April 1948, 6th, former Prime Minister Kuang Apaiwong was forced to resign within 24 hours. The coup, again, led by Lieutenant General Phin Choonhavan, blamed Mr.Kuang for his government's ineffective strategy to solve high-priced customer goods. This event has been named as 'The ouster of the Prime Minister'.
5th coup d'état
"The temporary government" led by General Phin Choonhavan and other 8 members, who were also the members of the 3rd coup, had revoked a current edition of the Constitution (as known as Royalism edition), and announced the seizure of his previous government. By asserting that the government had failed to solve the corruption problem, and been intervened by communism, the coup had re-enacted the first edition of the Constitution and assigned Field Marshal P. Pibulsongkram as a Prime Minister.
6th coup d'état
The force led by Field Marshal Sarit Thanarat—commandant of Thai Royal Army—had taken control over Field Marshal P. Pibulsongkram, and dissolved the House of Representatives. There was a Royal Order to appoint Field Marshal Sarit Thanarat as a 'Military Keeper of the Capital'. This coup had shifted the way Thai democracy should have been, regards to intention of the Siamese Revolution of 1932—ending absolute monarchy under King of Siam, led by Khana Ratsadon (translated as "People's Party"). Since then, the Thai monarchy has been revived (after their role had been reduced after the Siamese Revolution of 1932), which has significantly influenced politics in Thailand until now. At that moment, Thailand had been brought into the era of a completely military dictatorship, as known as Sarit's rule.
7th coup d'état
Since Field Marshal Sarit Dhanarajata had been knowing that the government had been unable to take control over the parliament, he flew to the UK, making a plan to seize the power from the current government of Field Marshal Thanom Kittikachorn, also drafting the new edition of the Constitution. On October 1958, 18th, Field Marshal S. Dhanarajata returned back to Thailand, and assembled his military force the day after that. Finally, on October 1958, 20th, Field Marshal T. Kittikachorn resigned from his position of Prime Minister, in the next few hours, Field Marshal S. Dhanarajata declared his seizure of power, cancelled political parties, and eventually dissolved the House of Representatives.
8th coup d'état
Field Marshal Thanom Kittikachorn announced the formation of 9 junta members, headed by himself, as "The Revolutionary Council" to dictate nation's affairs following the abolition of the current edition of the Constitution, Parliament, and Cabinet. Regarding the inability to persuade the governmental votes towards Field Marshal T. Kittikachorn and disagreement within his political party (the United Thai People's Party or "Saha Prachathai"), "The Revolution Council" suggested that that the government was intervened and corrupted by some group of people to which the coup had to put an end.
9th coup d'état
The coup, headed by Admiral Sangad Chaloryu as "the leader of Reformation Council of Nation's Government", claimed that there were students displaying a contempt of the Thai monarchy. In the morning of October 1976, 6th, at Thammasat University, the students were attacked, by armed police officers, in order to force their demonstration to stop. 39 dead and 145 injured people were officially reported. According to the website "Documentary of 6 October" (accessed by: https://doct6.com), this is the biggest gory incidence that has happened in Thailand's history, which has been known as "Thammasat University Massacre".
10th coup d'état
Admiral Sangad Chaloryu as "the leader of Revolutionary Council", again, led the military force to seize the power of Mr.Thanin Kraivichien's government by suggesting the purpose of this coup that the constitutional election was not appropriate to the current situation, where there was the disagreement between citizens and officials, and the democratic governance did not show the significant outcome. As a result, the current Constitution, Parliament, and Cabinet were abolished over again, and all political demonstrations were restricted. The training of The Village Scout of Thailand—the right-wing, ultranationalist, paramilitary volunteers from rural areas of Thailand who had played an important role to attack against the students in "Thammasat University Massacre"—was brought back.
The Village Scout of Thailand
11th coup d'état
The military force in the name of "National Council of Peace and Order", headed by General Soonthorn Kongsompong, seized the power of Chatchai Choonhavan's government. Five lists were declared to be the cause of this coup; corruption, politicians oppressing officials, destruction of militaries, distorted investigation of monarchical abolition's case, and "parliamentary dictatorship of the government"— which was the word invented in order to demonise the democratic government at that moment. Again, the current Constitution, Parliament, and Cabinet were abolished as a result. Martial Law was also nationally enacted.
12th coup d'état
"Revolutionary Council of Constitutional Monarchy", led by General Sonthi Boonyaratglin, seized the power of Mr.Thaksin Shinawatra's government. Three causes were claimed to be the motive of this coup; corruptive governance, independent organisations being intervened, contempt of Thai Monarchy. Moreover, the force enacted the Martial Law, and abolished the current Constitution, Parliament, Cabinet, and Constitutional Court. Political demonstrations were also illegal.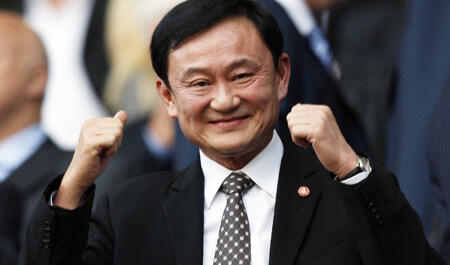 Ex-Prime Minister, Thaksin Shinawatara.
13th coup d'état
2014 - On the second day of the meetingset up by the army in order to come to a political common ground, there was serious disagreements among groups of protestors, mainly between; People's Democratic Reform Committee (PDRC) and United Front of Democracy Against Dictatorship (UDD). General Prayut Chan-o-cha decided to leave, and at 17:07 on the same day, he and his force (known as "National Council of Peace and Order" or NCPO) staged a coup, and enacted the Martial Law. All television channels (except one channel; The Royal Thai Army Radio and Television) and political demonstrations were cut off. The Constitution and Cabinet were revoked. Moreover, in order to prevent the opposition to NCPO, online news and social media have been regularly censored. Hundreds of Thai citizens have been summoned to "fix their attitudes" if they have showed a sign of disapproval of the junta.
defund the military.
reform things now.
WE DON'T WANT DICTATORSHIP ANYMORE.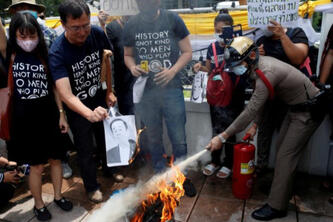 WHAT'S HAPPENING IN THAILAND